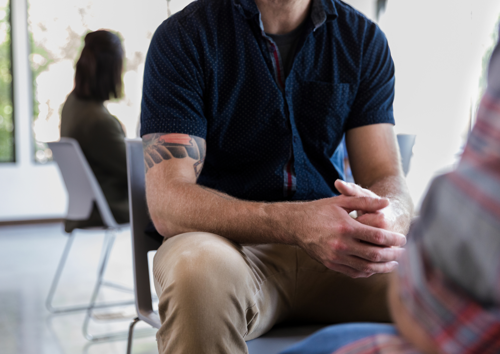 David* was referred to Restorative Justice after pleading guilty in court to a charge of wilful damage and breaching a family harm protection order.
The Restorative Justice facilitator made contact with both David and the victim, Sarah*, explaining what the service was and informing them that the process was completely voluntary and confidential. Both parties agreed to an initial meeting and independently met with the facilitator to discuss the impact of David's offending. This part of the process is called the 'pre-conference' and is tailored to meet the individual needs of both parties.
For Sarah, the facilitator wanted to ensure she had a support person and an understanding of the justice process. Sarah was able to ask questions and talk openly about her relationship with David with the knowledge that the pre-conference conversation was confidential.
Sarah spoke of being frightened when David 'kicked off' when he was drinking. In this particular incident, he had damaged her vehicle and home after being asked to leave. "I don't understand alcohol addiction, why would someone drink when they've got so much to lose?" she asked. Sarah explained it was important to her that David got help for his challenges with alcohol. She also wanted the opportunity to let David know what the experience was like for her and her children, and how his behaviour had effected them, their family and their friends. 
For David, a pre-conference was held where he worked with the facilitator to gain more understanding around his offending. He explained that he had previously sustained an injury that required surgery and led to him losing his job. This situation had increased his anxiety and he felt that he wasn't able to provide for his family like he had in the past. David identified he had a toxic relationship with alcohol, saying, "once I start, I can't stop". They went on to discuss this further as well as the progress he was making with counselling and alcohol rehabilitation. 
Both parties agreed to attend a facilitated conference together with their support people. The facilitator completed risk assessments and confirmed they were able to proceed.
At the conference, both David and Sarah had the opportunity to address David's offending, the impact and trauma, and talk about the next steps. David apologised for his behaviour and made a commitment to continue attending counselling sessions and abstain from alcohol. 
A year on, David is still sober and his relationship with Sarah is in a much better place. They are enjoying raising their family together and are communicating in a positive manner. David has found employment and a new hobby, which the whole family enjoys, to occupy his downtime. Sarah says their relationship has improved to a "whole new level".
Restorative Justice gave David and Sarah the opportunity to have safe, one-on-one conversations that helped them to process what had occurred. This was followed by a conversation that allowed them to decide what they wanted to do to move forward.
*Names have been changed to protect identity and privacy.